Not sure if this is the correct place for these, but I wanted to share with you our honeymoon photos from Mauritius
I actually met 1 Australian woman (while getting pancakes) there and I swooned at the accent haha
The honeymoon was amazing! The weather was gorgeous, the food was AMAZING! and the snorkeling was beyond awesome!!
The Fully-Inclusive was even better – literally, everything is inlcuded. Premium brands of drinks (ie Johnny Walker Black, whatever you wanted – no extra charge!), the boat hire, waterskiiing (which we didnt get to lol), to all the cocktails you can think of! The only thing we paid for was a shirt for hubby and a few momentos we bought, that was it!
We were at breakfast by 8am most mornings, sometimes 8:30am, and had fun every morning at the buffet variety which changed all the time. After that we went to the boat house to book our snorkeling or glass-bottom boat rides.
After that, back to our room to brush teeth, apply sunscreen (should have taken 1 bottle of factor 15 each, but we took one factor 30 like we'd use here in SA – totally didnt need such a high factor there, much to my surprise!). Only applied it once a day and never burnt!
Then we were off to the pool, as by now it was 10am or just after, and of course thats when the bar opens, so we lay by the pool drinking cocktails until lunchtime, where we either dined at the restaurant (if we were lying by the pool) or we used the golf cart that delivers food around the resort if we were at the beach.
After lunch we did snorkeling (we bought a snorkel set each here in SA and took it over with us, cos we felt gross using someone else's snorkel equipment, even though it was cleaned and disinfected after each use), either from the bay or from the glass bottom boat, both of which was awesome.
If we were on the beach, we left our stuff (phones, Kindle, etc) on our lounger with our towels and went off snorkeling in the bay for an hour, come back, order cocktail, lounge around and tan some more until 4:30pm-5pm, then we went off to shower and get ready for dinner at 7.
Once showered, we made our way to the bar for, yes, more cocktails (and for me, unlimited French champagne, cos hubby doesnt drink champagne lol) and canapes while we wait for dinner time.
Then we dined in a different restaurant each night. First Porto Vecchio (Italian), then Le Sirius, then the main buffet for two nights in a row (new food options every night), and then back to Le Sirius for "Mauritian Night" with a special menu that included weird but wonderful items like Palm Heart! (which was yummy!)
They also dont like serving wine by the glass and bring you the whole bottle instead (again, all inclusive!). If you ever can try Château Mazetier, do it! Esp if you're eating desserts! They also brought you a bottle of sparkling or still ice water for the table each time you dined which was nice.
After dinner (it was weird just getting up and walking away, no having to pay/tip/etc lol!), we usually went for a walk around the resort at night.
I tried sitting out one night on the balcony, but the mosquitos bit me a few times and they're now still big, red welts on my leg haha! Crazy! The room had a mozzie plug thing with mats, but we didnt need it inside.
The room had aircon of course, and we had free wifi access so in the evenings we caught up on FB, Instagram, etc. Then to bed at around 11pm and rinse and repeat lol
Extra awesomeness of our honeymoon were the free massages (1 for staying more than 4 nights and 1 for our honeymoon). We used the sauna and wellness splash-pool on our last day and it was super relaxing.
We also got a free gift in the Boutique each, a t-shirt for the guy and a sarong (pareo
) for me.
You could also pre-order coconuts to drink, and you would collect them the next day and enjoy them by the beach or pool.
The mini-bar was customisable so we tailored it to our taste and of course, again, it was all included in the cost.
I actually miss having sparkling water freely available on hand now haha
The weather was amazing, around 27 degrees during the day, and at night around 23 degrees (no jersey was needed). It rained twice while we were there, once overnight so it didnt affect us, and a second time at around 11am but only for 20 min if that. Still hot, no wind, the only reason we moved out from under it was because we had cellphones, etc which we didnt want to get wet. The GoPro cam was waterproof, so we almost always had it in the water with us lol
My tip: if you ever go to a Mauritius resort (any of them), look for one that offers All-Inclusive and dont even second guess yourself! It's the only way to go! Not all will have the extras we had (mini-bar, premium brands, access to all restaurants) but still enough to have an amazing time without worrying about costs during your stay. Oh, and take 1 bottle of sunscreen per person (we were nervous we'd run out and didnt feel like spending money to buy more there since it was only Clarins brand and quite pricey). Oh, and an underwater camera and snorkel stuff.
View from the breakfast table on the first morning
Our room: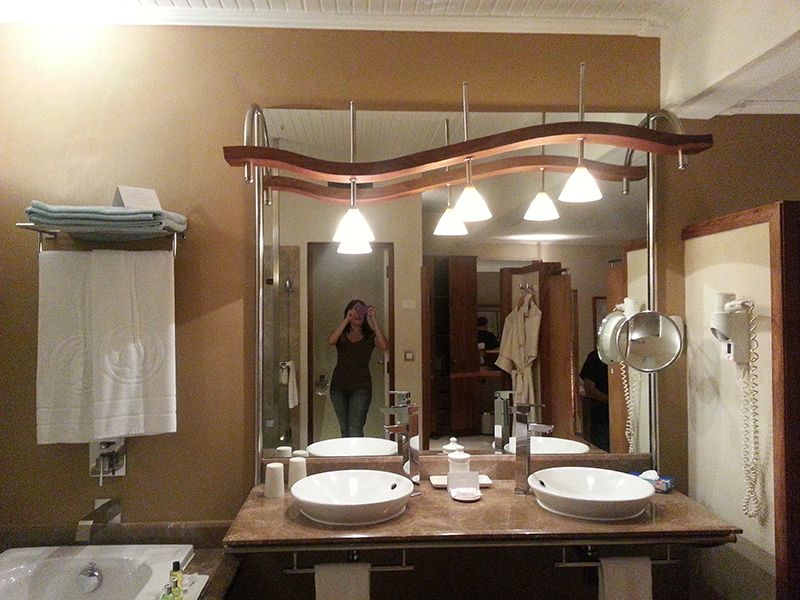 Our room from the beach (ours it the one with the staircase)
Reception Fountain:
Lounging on the beach near our room:
Le Sirius Pool:
Waiting for cocktails at the main pool/bar:
Pancakes (crepes) at the bar: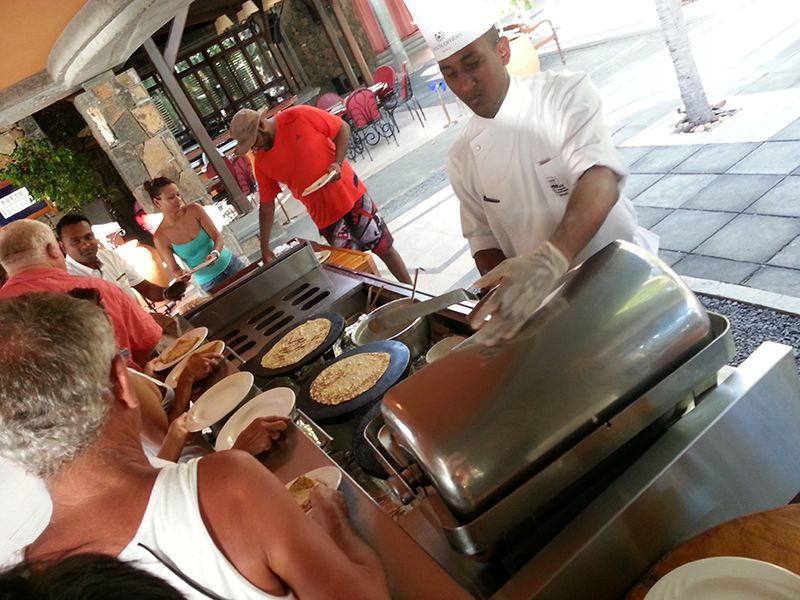 Sunset from our room:
Saffron-marinated Squid: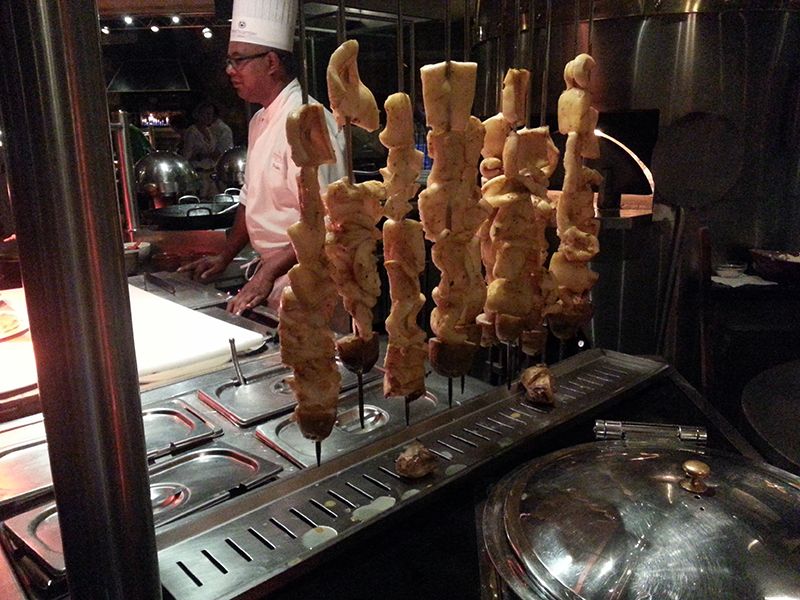 Cocktails flowed freely in the All-Inclusive package: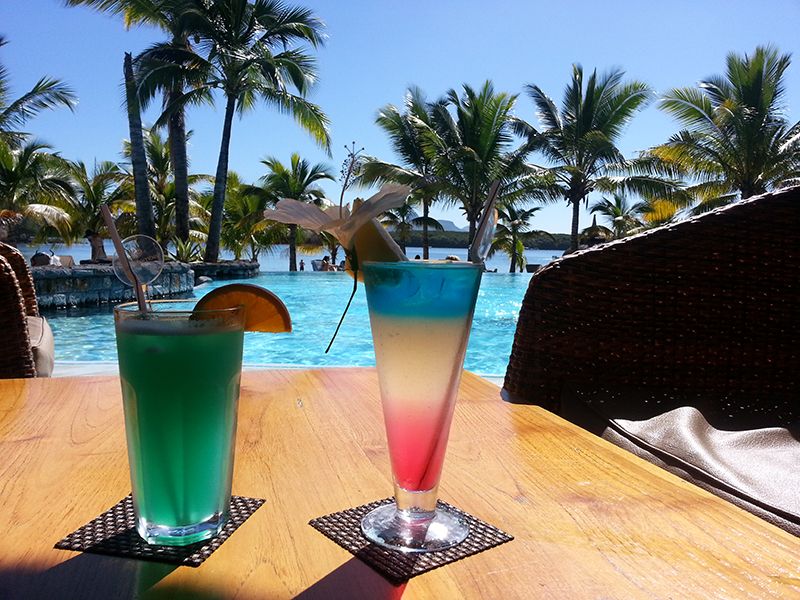 Lunch from the golf cart if you didnt feel like going to the restaurants:
Glass-bottom boat photos: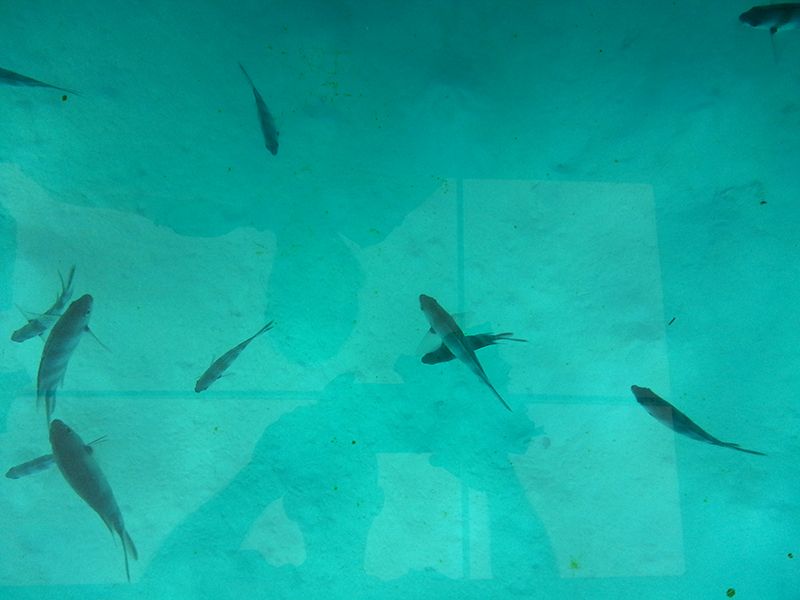 Snorkeling in the bay:
Snorkeling off the glass bottom boat in the Marine Park: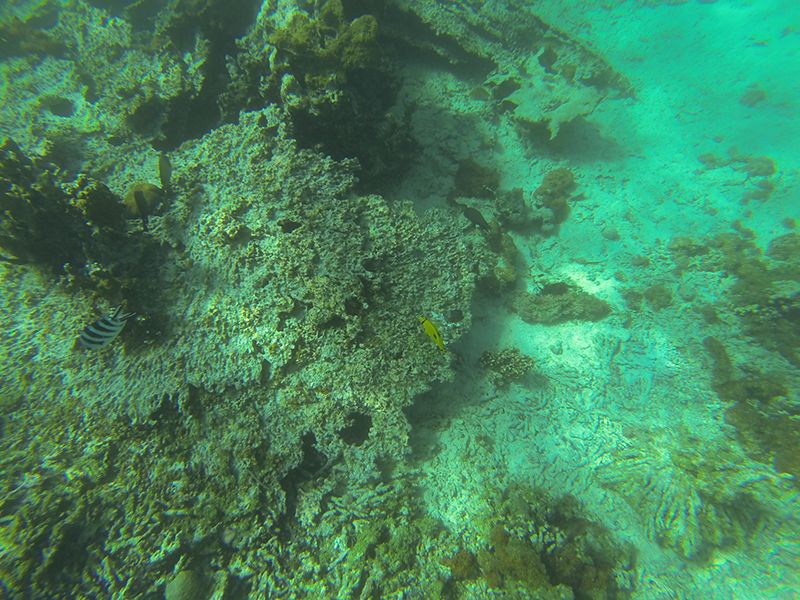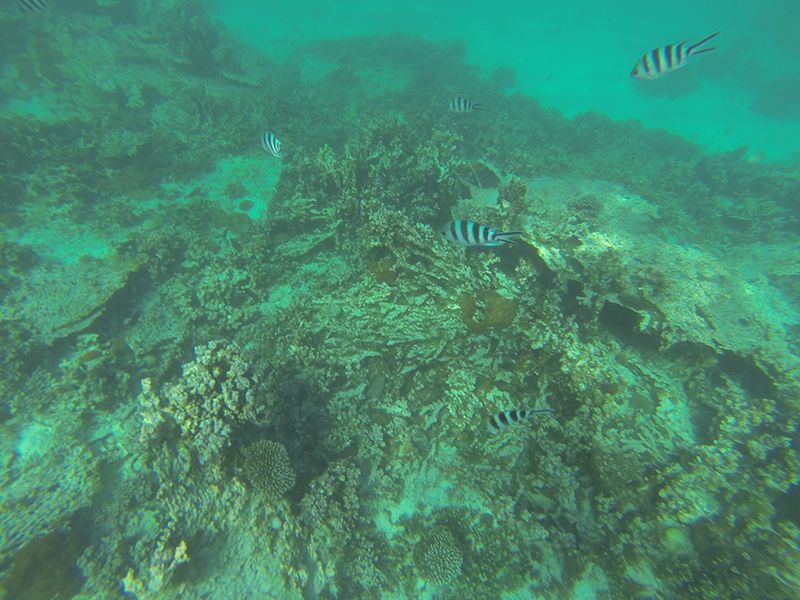 Puffer Fish!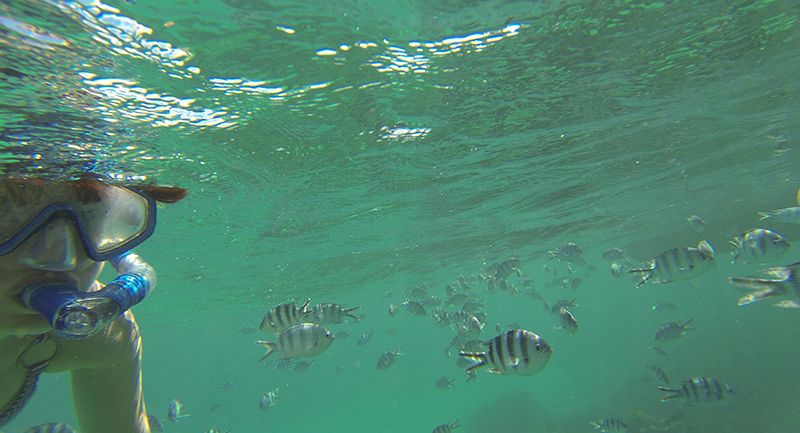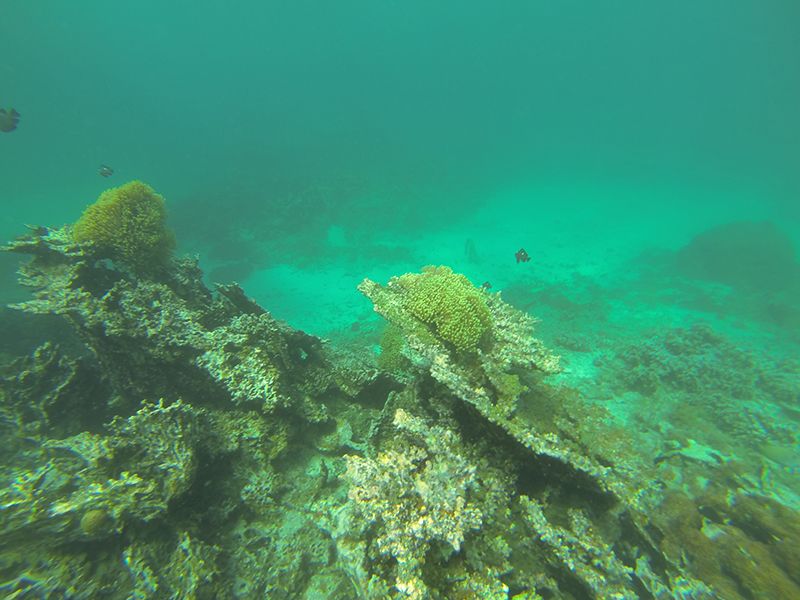 In the spa where we got our free massages:
(story album):
http://s25.photobucket.com/user/Rat_Tails/story/9145